The medical system collapsed all over Iraq as looters looted hospitals, including medicine and beds (Alquds Alarabi, 4/12/03).
Baghdad looters looting government offices (Alquds Alarabi, 4/12/03).
Looting public facilities continues in Iraq. This was at Ninawa Elementary School, yesterday (Alhayat Aljadeeda, 4/12/03)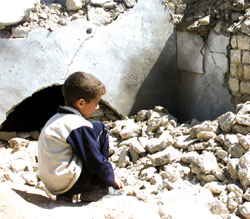 Israeli Apache helicopters attacked Gaza yesterday (Ad Dustour, 4/12/03).
A US marine covering the face of a statue of President Saddam Hussain with a US flag in Baghdad, on Wednesday (aljazeera.net, 4/10/03).
Praying for the peace of Iraq (Alquds Alarabi, 4/5/03).
Ali Ismail Abbas (12) injured in Al-Najaf. (Al-Quds Al-Arabi, 4/403).
Pictures are from different agency's, most of them and many more can be viewed at the following web pages:
http://www.aljazeerah.info May close :
http://www.amazonepress.com
FULL BRANDS LIST