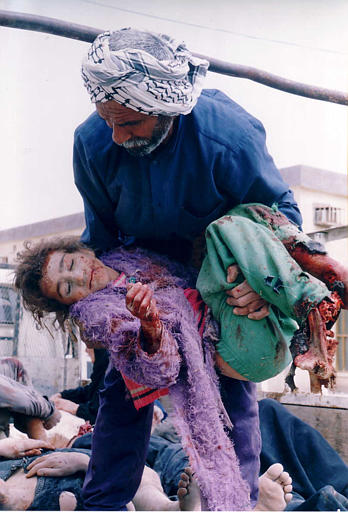 And to think, our own troops did this.

Notice the white flag?
Even though they had surrendered, they were still murdered.
This is the reality of war. We bomb. They suffer.
Veteran war reporter Robert Fisk tours the Baghdad hospital to see the wounded after a devastating night of air strikes.
(The Independent)

"Donald Rumsfeld says the American attack on Baghdad is 'as targeted an air campaign as has ever existed' but he should not try telling that to five-year-old Doha Suheil. She looked at me yesterday morning, drip feed attached to her nose, a deep frown over her small face as she tried vainly to move the left side of her body. The cruise missile that exploded close to her home in the Radwaniyeh suburb of Baghdad blasted shrapnel into her tiny legs ­ they were bound up with gauze ­ and, far more seriously, into her spine. Now she has lost all movement in her left leg."
---
Baghdad is under attack. And, as has been the case since the start of the war, there has been no retaliation using banned weapons, further eroding the US claim that Saddam has or would use weapons of mass destruction on the invading army.
The UN is now in a terrible political fix. It was the UN which has disarmed Iraq not only of their WMDs, but also of conventional weapons which would be useful against the illegal invasion. The Al Samoud Missile was ordered destroyed because a test missile, without the weight of a real warhead, flew 15 miles further than it should have. Iraq destroyed these missiles in great numbers under orders from the UN, with the implied promise that if these missiles were destroyed, the UN would prevent a US invasion. The US invaded anyway, and unless the UN take immediate action to halt the war against the Iraqi people the UN disarmed, the UN will soon join the League of Nations on the dust heap of great failed experiments in international law, with Kofi Annan remembered as the man who directed the UN into ruin.

---
These photos are of Iraqi women and children that have been injured during the invasion on Iraq. They are in the Al Kindi hopsital in Baghdad, and were visited on 24 March 2003 by members of the Iraq Peace Team.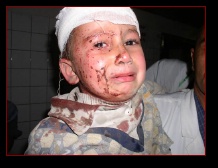 Muhammed Adman. Received cuts to his head and face from shrapnel.

Teenager taken to surgery. Received shrapnel wounds to his head, arms and legs.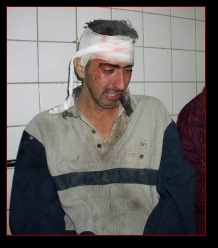 Man soon to be married. His bride is still missing at bomb site.

Rafah Widad Muhammed, age 25,was injured by cruise missile inside her home.

Nada Adnan, 13 years old and a student at high school for girls, states "I wish that God would take Bush. Why did he do this to us? to me?". She has an open gash on her right cranium with underlying fracture and a large, deep shrapnel gauged cut into her upper left thigh. She has no narcotic relief and cries out as aides press guaze into her leg wound.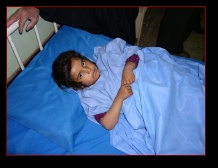 This six year old girl has a spinal cord injury from an explosion by a cruise missile.
---
MISSILES HIT RESIDENTIAL AREA OF BAGHDAD
Two cruise missiles struck a residential area in Baghdad on Wednesday, March 26, killing 14 people, and injuring 30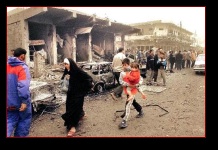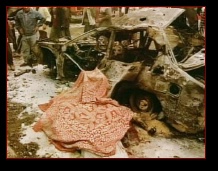 AND WHO DO WE HAVE TO THANK FOR THIS AWFUL ATTACK ON INNOCENT CIVILIANS?

THE BUTCHER OF BAGHDAD, THAT'S WHO.

PRESIDENT GEORGE W. BU$H HIMSELF.
---

An Iraqi man reportedly injured near the southern Iraqi city of Basra as allied forces inched closer to the city,
Saturday, March 22, 2003. (AP Photo/Nabil)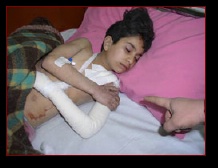 Nine year old, Rana Adnan needs oxygen for a chest laceration and lung contusion with a concussion, head laceration, and shrapnel in her left arm.

An Iraqi man stands in front of a house destroyed by a missile during an air strike in Baghdad March 23, 2003.
Fresh air raids shook Baghdad on Sunday. (Faleh Kheiber/Reuters)

Baghdad, 3/23/03. Photo: Daily Times (Pakistan)

An Iraqi child said by Iraqi authorities to have been wounded during a recent air strike lies in a hospital in Baghdad March 22, 2003.
Red Cross workers saw about 200 people described as war-wounded in Baghdad hospitals and delivered emergency surgical supplies amid continuing air raids, a spokeswoman said.
(Faleh Kheiber/Reuters)

An Iraq woman stands near an Iraqi child laying in Al-Numan hospital after they were wounded when a missile landed in a residential neighborhood of Baghdad Monday March 24, 2003.
killing three and wounding 23. (AP Photo/Jerome Delay)

Shehad Khalil, 7, lays in Al-Numan hospital after she was seriously wounded when a missile reportedly landed in a residential neighborhood of Baghdad, Monday, March 24, 2003, killing three and wounding 23. (AP Photo/Jerome Delay)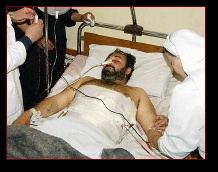 An Iraqi man injured in US bombing raids. The International Committee of the Red Cross (ICRC) said it was very concerned about the situation in the southern Iraqi city of Basra
following US-led airstrikes on the strategic city. (AFP/Sabah Arrar)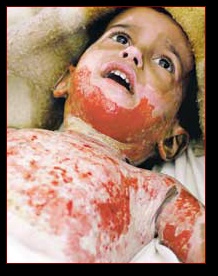 TERROR: Child with horrifc burns
A TERRIBLE DAY IN BUSH AND BLAIR'S TERRIBLE WAR
(The Mirror, March 24 2003)

The Mirror, Monday March 24, 2003
---
IT SEEMS AS THOUGH THE US AND UK HAVE A PROBLEM WITH THE FOLLOWING IMAGES.
THESE ARE OUR OUR OWN TROOPS CAPTURED IN IRAQ AS SHOWN BY AL JAZEERA.


Army Spc. Joseph Hudson of Almagordo, N.M., Army Sgt. James Riley of New Jersey, Army Spc. Shoshawna Johnson of Fort Bliss, Texas, Edgar Hernandez of Texas, rank unknown, and Army Pfc. Patrick Miller of Park City, Kan. are shown in this combination of photos from video seen on Iraqi Televison Sunday, March 23, 2003. These soldiers were shown on Iraqi television after pre-dawn ambush of convoy near An Nasiriyah, southwestern Iraq, March 23. U.S. military lists them as missing, along with seven other soldiers. Iraqi TV also displayed four bodies of what it said were Americans from the attack.
(AP Photo/Iraqi TV via APTN)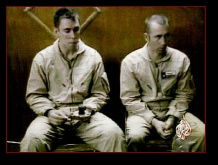 In this image from video shown on Al-Jazeera television on Monday, March 24, 2003, Chief Warrant Officer Ronald D. Young, Jr., 26, from Georgia, left, and Chief Warrant Officer David S. Williams, 30, from Florida, are seen. Young and Williams are the two-man crew believed to be aboard an Apache helicopter that was allegedly forced down during heavy fighting Sunday night in central Iraq.
(AP Photo/Al-Jazeera via APTN)

The Mirror, Tuesday March 25, 2003


WE HEAR RUMSFELD, GOING ON ABOUT THE GENEVA CONVENTION.

WELL DONALD SEEMS TO HAVE DRUNK TOO MUCH OF THE ASPARTAME HE HELPED PUT ON THE MARKET, BECAUSE HIS MEMORY IS SERIOUSLY FLAWED. ONLY YESTERDAY, THE US WAS SHOWING PHOTOS OF CAPTURED IRAQI POWs ON TV.


DID YOU FORGET ABOUT THE GENEVA CONVENTION WHEN THE ABOVE WAS BEING SHOWN ON US TV?
OR DO YOU JUST LIKE TO QUOTE IT WHEN IT SUITS YOU?


WHAT ABOUT AFGHANISTAN? FORGOTTEN ALREADY?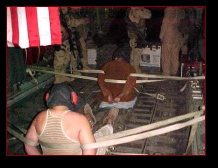 BUMSFELT'S AMERICA BYPASSES THE RULES OF THE GENEVA CONVENTION
BY REFUSING TO CALL IT'S VICTIMS PRISONERS OF WAR AND INSTEAD DUBS THEM "ENEMY COMBATANTS."
AND WHILST WE ARE ON THE SUBJECT OF GENEVA.....


AFGHANISTAN: PRISONERS SUFFOCATE IN CONTAINERS
(Click above for the story)
---
THE SECRET BEHIND THE SANCTIONS, HOW THE U.S. INTENTIONALLY DESTROYED IRAQ'S WATER SUPPLY

THIS IS AGAINST THE GENEVA CONVENTIONS THAT RUMSFELD
IS NOW WAVING AROUND OVER THE PICTURES OF POWs
---
US MISSILE STRIKES SYRIAN PASSENGER BUS
A US missile has hit a Syrian passenger bus near the Iraqi border, killing five people and injuring 10 others.
The bus was carrying Syrians fleeing the war in Iraq.
A spokeswoman for the US Central Command says Allied forces do not target civilians, and that their targeting is done very carefully,
using precision-guided missiles, to select military targets.
© Copyright Ananova Ltd 2003, all rights reserved.

---
BODIES OF 500 US, UK SOLDIERS LYING IN JACOBABAD
Kept secret to avoid damaging war build-up - this is how our government treats the troops!
---
NOT SO SMART BOMBS DEVASTATE ORDINARY LIVES
(The Mirror)
ANTON ANTONOWICZ Reporting from Saddam's blitzed capital of Baghdad

THE crater, gouged through the heart of a family's home, is 30ft deep and 60ft wide. Water from a well is seeping into it.
Amid the rubble is a handbag, a child's pedal car and a fold-up pushchair.
This is the closest we have so far been allowed to witness the devastation of the bombing of Baghdad.
---
IRAN TO BE NEXT US TARGET: CIA REPORT
(PakTribune)
The next target of US after capturing Iraq will be replacement of religious government in Iran
with a secular government as the US forces in Afghanistan have already started implementation on action plan in this regard.
---
MICHAEL MOORE CRITICIZES U.S. WAR IN IRAQ IN OSCAR SPEECH

ACCEPTANCE SPEECH

Michael Moore: Whoa. On behalf of our producers Kathleen Glynn and Michael Donovan from Canada, I'd like to thank the Academy for this. I have invited my fellow documentary nominees on the stage with us, and we would like to — they're here in solidarity with me because we like nonfiction. We like nonfiction and we live in fictitious times. We live in the time where we have fictitious election results that elects a fictitious president. We live in a time where we have a man sending us to war for fictitious reasons. Whether it's the fictition of duct tape or fictition of orange alerts we are against this war, Mr. Bush. Shame on you, Mr. Bush, shame on you. And any time you got the Pope and the Dixie Chicks against you, your time is up. Thank you very much.
---
DISINFORMATION BY THE CORPORATE MEDIA IS A WAR CRIME
As the Bush War escalates, so does the intensity and wantonness of the propaganda disseminated by the corporate media. Overnight, it has cross the line from exaggeration, suppression, and calculated spin to outright lies and the total repression of meaningful coverage of dissent. To prevent the truth from being known is to permit opinions to be formed and decisions to be made on false pretexts. These opinions and decisions, in turn, are leading to the promotion of an illegal war and the deaths, dismemberment and permanent scarring of tens of thousands of human beings.

---
GLOBAL EYE - MEMORY LANE

"Of course, America's carefully cultivated amnesia also covers the entire background history of the Bush rampage in Iraq. Few Homeland folks realize that the current "war of liberation" is nothing more than a falling out among thieves, old comrades in crime. For just like Osama and Daddy Bush's former punching bag, Panama's Manuel Noreiga, Saddam is a son of the CIA: He and his brutal Baathist Party were put in power by the American spy agency in 1963, as historian Roger Morris detailed last week in The New York Times."

---
The following information is supplied by a very good friend, Barbara Hartwell.

Note from Babs:

This report came to me from a NATO intelligence report.
The source who acted as a conduit is extremely trustworthy and so I would bank on the information being true.


U. S. FORCES LIE IN IRAQ FOR PSY OPS PURPOSES
The U.S.-U.K. war in Iraq is going badly. The Iraqi resistance is much, much fiercer than was ever expected and the casualties among the coalition forces are by at least 300 per cent heavier than reported on western T.V. stations.

Many U.S. soldiers have been killed and wounded but their numbers are being held secret and will be revealed only over a period of weeks in order to keep from disheartening the masses in the U.S. and in the U.K.

Some additional facts of importance.
1. U.S. Marine units which had been fighting in and around the Iraqi port city Um Qasr had to be withdrawn and replaced by British marine commandos because of widespread "battle fatigue" and poor morale as a result of encountering both military and civilian fierce resistance their commanders had told them would not happen.

2. The so-called Iraqi prisoners of war shown on American T.V. networks have been identified by members of the Swedish Red Cross as civilians and not as military men.
3. American planes have been bombing civilian targets in Baghdad, Mosul, Basra, and other cities and the toll of civilian casualties in those cities has been growing in alarming numbers.

4. According to a Hungarian journalist's report, the Oil fields at Rumailia have been exploded and set afire by trained teams of U.S. Special Forces, not by Iraqis.
(This last item has not been confirmed)

5. German reporters on the scene have confirmed that British journalist, Lloyd was killed by American forces before he could broadcast a report about the falsehood of the Iraqi P.O.W. story.

---
This Is The Cost Of Blair's 'Moral' War
EXCLUSIVE: The trickery used to create a threat
By John Pilger

THE Blair Government has known, almost from the day it came to office in 1997, that Iraq's weapons of mass destruction were almost certainly destroyed following the Gulf War.
Of all the pro-war propaganda of Blair and Bush, and their current threats giving Saddam Hussein yet another deadline to disarm, what may be their biggest lie is exposed by this revelation.
Two weeks ago, a transcript of a United Nations debriefing of Iraqi general Hussein Kamel was obtained by the American magazine, Newsweek, and by Cambridge University analyst, Glen Rangwala (who last month revealed that Blair's "intelligence dossier" on Iraq was lifted, word for word, from an American student's thesis).
General Kamel was the West's "star witness" in its case against Saddam Hussein. He was no ordinary defector. A son-in-law of the Iraqi dictator, he had immense power in Iraq; and when he defected, he took with him crates of secret documents on Iraq's weapons programme.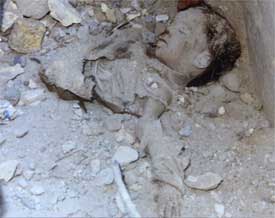 KILLED IN HER BED: Little girl, aged eight, lies dead in the rubble of her home after a US missile destroyed their home in a residential area of Basra killing six. Her ten year old sister also perished
These secrets have been repeatedly cited by George W Bush and his officials as "evidence" that Iraq still has large quantities of deadly weapons of mass destruction, and that only war can disarm it. Bush, his officials and leading American commentators, have frequently lauded General Kamel as the most reliable source of information on Iraq's weapons. The Blair government has echoed this.
In 1995, General Kamel was debriefed by senior officials of the United Nations inspections team, then known as UNSCOM, and by the International Atomic Energy Agency. The complete transcript, now disclosed for the first time, contradicts almost everything Bush and Blair have said about the threat of Iraqi weapons.
For example, General Kamel says categorically: "I ordered destruction of all chemical weapons. All weapons - biological, chemical, missile, nuclear - were destroyed." All that remains, he says, are the blueprints, computer disks and microfiches.
Newsweek says that the CIA and Britain's MI6 were told this; and Blair and Bush must have been told the truth. In other words, it is likely that Iraq has been substantially disarmed for at least eight years.
With General Kamel now out of the way (he was killed when he returned to Iraq in 1996), his "evidence" was selectively made public by Washington and London. In his dramatic presentation to the UN Security Council on February 5, US Secretary of State Colin Powell said that the truth about Iraq's nerve gas weapons "only came out after inspectors collected documentation as a result of the defection of Hussein Kamel, Saddam Hussein's late son in law".
What Powell neglected to mention was that his star witness had told them all the weapons had been destroyed.

KILLED IN HER BED: Little girl, aged ten, lies dead in the rubble of her home after a US missile destroyed their home in a residential area of Basra killing six. Her eight year old sister also perished
GENERAL Kamel's sensational admission has been corroborated by the former chief UN weapons inspector Scott Ritter who says that when he left Iraq in 1998, disarmament was "90 to 95 per cent".
A United Nations verifying panel set up by the Security Council, confirmed that "the bulk of Iraq's proscribed weapons programmes has been eliminated". This has seldom been reported.
Of course, none of these facts will deter the American and British security agencies from inventing and planting "evidence" of "Saddam's secret weapons" once Anglo-American forces take over Baghdad.
When America and Britain crush Iraq, a new phase of their black propaganda will emerge - for which the British public ought to be prepared. This new range of deceptions will be designed to justify attacking a sovereign state and killing innocent people: a crime under international law, with or without a second UN resolution.
Black propaganda of this kind has a long history. My own experience of it was the American invasion of Vietnam. In 1964, the US State Department published a White Paper with pages of "conclusive proof" of North Vietnam's preparations to invade the south. This "proof" stemmed from the "discovery" of a stockpile of weapons found floating in a junk off the coast of South Vietnam. The White Paper, which provided a quasi-legal justification for the American invasion, was known as a "master illusion". The whole episode was fake, a set-up.
Master illusion was the CIA's term for master lie. In 1982, I interviewed Ralph McGehee, a senior CIA officer who documented the planting of the fake evidence. He told me: "The CIA loaded up a junk, a North Vietnamese junk, with communist weapons ... They floated this junk off the coast of Central Vietnam. Then they shot it up and made it look like a fire fight had taken place. They then brought in the American press and the international press and said, 'Here's the evidence that the North Vietnamese are invading South Vietnam.' Based on this 'evidence', the US Marines went in, and the American air force began regular bombing of North Vietnam."
As a result of this fakery, which included the elaborate fiction that an American destroyer had been attacked by a North Vietnamese gunboat, the United States dispatched its greatest ever land army to Vietnam, and dropped the greatest tonnage of bombs in the history of warfare, and forced millions of people to abandon their homes, and used chemical weapons that profoundly damaged the environment and human genes, leaving a once beautiful land petrified.
AT least two million people were killed, and many more were maimed and otherwise ruined. Now replace "Vietnam" with "Iraq" in this story of lies; and you have the essentials of the same justification for another great criminal act.
Watch how the propaganda unfolds once the bombing is over and the Americans are running Baghdad and their spin machine. There will be the "discovery of Saddam's secret arsenal," probably in the basement of one his palaces. This will be accompanied by the "discovery" of gruesome evidence of Saddam's oppression. This will not come as news to the many dedicated anti-war campaigners, who for years tried to stop the American and British governments from supplying Saddam with the tools of his oppression.
They include many Iraqis exiled in Britain, such as Khalid Sahi, who was tortured by the regime and opposes an attack "will bring nothing but more bloodshed, more misery"; and the anti-war Labour MP Jeremy Corbyn, who has protested about the Iraqi dictator for more than twenty years and demanded that the British government prosecute British companies that sustained the Iraqi torturers.
Two years ago, Peter Hain, then a Foreign Office minister, blocked a parliamentary request to publish the full list of British companies that had illegally traded with Saddam Hussein.
The reason why became clear last week when the Guardian newspaper disclosed that the Blair government had secretly paid out more than Ł33 million in taxpayers' money to British companies claiming non-payment on the weapons they sold Saddam Hussein in the 1980s. The total loss to the taxpayer on sales to Iraq now exceeds Ł1billion. Add this to the Ł3.5billion that Gordon Brown has "put aside" for an attack on Iraq. Add this to the Ł1billion that the bombing of Iraq has already cost - the rarely reported bombing by British and American aircraft in the so-called "no fly zones", which now cover most of Iraqi airspace and were set up, according to Blair, to "protect Iraq's minorities". Who believes this now?
This week, the Ministry of Defence said: "We never target civilians [in the no-fly zones]... there's no evidence of civilian casualties."
The lie of this statement would be breathtaking were it not routine.
In northern Kurdish Iraq, I interviewed members of one family who had lost their grandfather, their father and four brothers and sisters when a "coalition" aircraft (British or American) dive-bombed them and the sheep they were tending. It was open desert, a moonscape with not a sign of other life, let alone a military installation. Amid the carcasses of blasted sheep were pieces of clothing and a single shoe.
The attack was investigated and verified by the chief United Nations representative in Iraq at the time, Hans Von Sponeck, who drove there especially from Baghdad. His findings are listed among dozens of similar attacks - on shepherds, farmers, fishermen - in a document prepared by the United Nations Security Section.
At a windswept cemetery near the town of Mosul, I caught sight of the shepherd's widow as she grieved for her husband and four children. "I want to see the pilot who did this," she shouted.
LAST week, "coalition" aircraft killed another six people in the southern city of Basra. Nothing unusual there. When I was last in Basra, an American missile killed six children when it "mistakenly" hit Al Jumohria, a very poor section of Basra's residential area.
I walked down the street where the missile had struck in the early hours; it had followed the line of houses, destroying one after the other. I met the father of two sisters, aged eight and 10, who were photographed by a local weddings photographer, Nabil al-Jerani, shortly after the attack. Their bodies were unlike the other four children, who were blown to bits, their limbs and flesh in the overhead wires.
These two little girls were left intact. In Nabil's photographs, they are in their nightdresses, one with a bow in her hair, their bodies perfectly engraved in the rubble of their homes, where they had been bombed to death, murdered, in their beds.
Look closely at their images on these pages; they are the faces of a stricken nation of whom 42 per cent are children. When Blair speaks about the "moral case" for sending hundreds of missiles against this nation of so many children, as well as new types of cluster bombs and bunker bombs and microwave bombs, and shells tipped with pure uranium, a form of nuclear weapon, the images of the two sisters provide an eloquent commentary on the Prime Minister's Christian "morality".
And when pictures of exhausted Iraqis greeting their "liberation" are flashed around the world, remember the faces that will be missing in the crowds - not only those of the children bombed and disposed of as "collateral damage", but more than a million faces declared expendable by the American-driven and British-backed economic embargo.
Remember the vaccines, cancer-treatment equipment, pain-killers, plasma bags, food treatment equipment and much else denied over fourteen years: $5.4 billion worth as of last July, to be precise, blocked by the US government, backed by the Blair government.
Remember the words of President Clinton's then representative at the United Nations, Madeleine Albright, when she was asked if the price of 500,000 Iraqi children was a price worth paying for the embargo. "We think the price is worth it," she said.
AND when you next hear Bush or Blair or Straw or Hoon talk about "the tyrant who gassed his own people", remember those American officials and British ministers who competed with each other to excuse and effectively reward Saddam Hussein for gassing 5,000 Kurds in the town of Halabja.
Barely one month after the atrocity in 1988, Tony Newton, Margaret Thatcher's Trade Secretary, flew to Baghdad to offer Saddam Ł340million of taxpapers' money in export credits. Three months later, the smiling Newton was back, this time to celebrate with Saddam the joyous news that Iraq was now Britain's third-largest market for machine tools, from which a range of Iraqi weapons was forged - some of them used against British troops in the Gulf War.
Newton was followed by Assistant US Secretary of State John Kelly who flew to Baghdad to tell Saddam that "you are a source for moderation in the region, and the United States wants to broaden her relationship with Iraq".
When the "liberation" of Baghdad is on the front page, remember the warmongering newspapers whose editorials defended Saddam Hussein throughout the 1980s by promoting the lie that his use of chemical weapons against Iran was purely defensive.
Remember, too, Blair's long silence. There is no record of Blair saying anything worthwhile about Saddam's "excesses" (as his crimes used to be known by British ministers when he was "one of us") until after September 11, 2001 when the Americans, frustrated at having failed to catch Osama bin Laden, declared the Iraqi dictator their number one enemy.
Like a discredited East European autocrat, attended only by his court of supplicants and propagandists, Blair has few left to deceive. He even claimed the other day that "no Iraqis marched" in the great demonstration of February 15. In fact, as many as 7,000 Iraqis and Kurds marched. Iraqi families stood on the roadside holding up home-made placards: "Thank you for supporting my people."
None, it can be assumed, has any time for Saddam Hussein; but none want their country strangled, attacked, poisoned and occupied by another variety of dictator.
---
YOU SHOULD BE ASHAMED OF YOURSELVES!


FUCK BU$H! FUCK BŁAIR! FUCK THE WAR!
---
The above counter will automatically update thanks to www.iraqbodycount.org
---
---
---
---

The Propaganda Matrix hosted by Paul Joseph Watson:
Click above for the live audio stream!
---

---
Cafe-Uni
Articles on the humanitarian cost of war on Iraq
---
---
Pictures are from different agency's, most of them and many more can be viewed at the following web pages